Introduction:
It is the Season of Wireless. Our brand RMG AUTOMATION focus on customer's requirements and design products to meet the needs at their fullest satisfaction. We have different range of wireless water level controllers and indicators addressing the specific individual requirement of buyers. Thereby, customer requirement based customized wireless controllers are manufactured. This Advanced Wireless Fully Automatic Water Level Controller (AWFAWLC) is one among them. This is the exact Wireless Version of RMG's Advanced FAWLC-040 wired type model. The uniqueness in this AWFAWLC is, it combos with an outdoor transmitter which is water/rain proof. The transmitter is operated by long standing rechargeable battery. The special note is, a solar panel is also attached to the transmitter battery where continuous power supply to the battery is maintained. Our model ranges distance from 800 to 1000 meters data transmission.
Description:
Receiver / Controller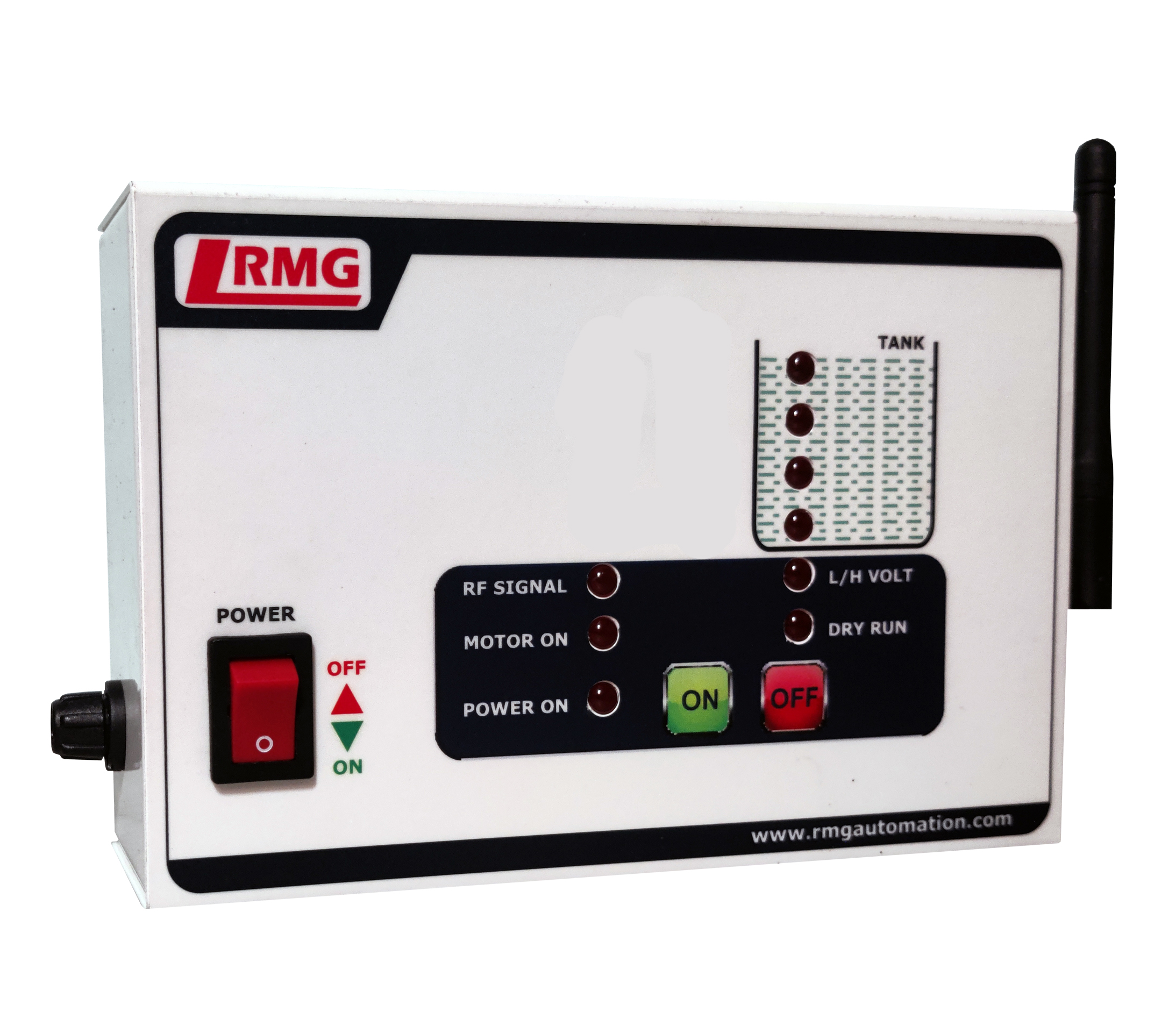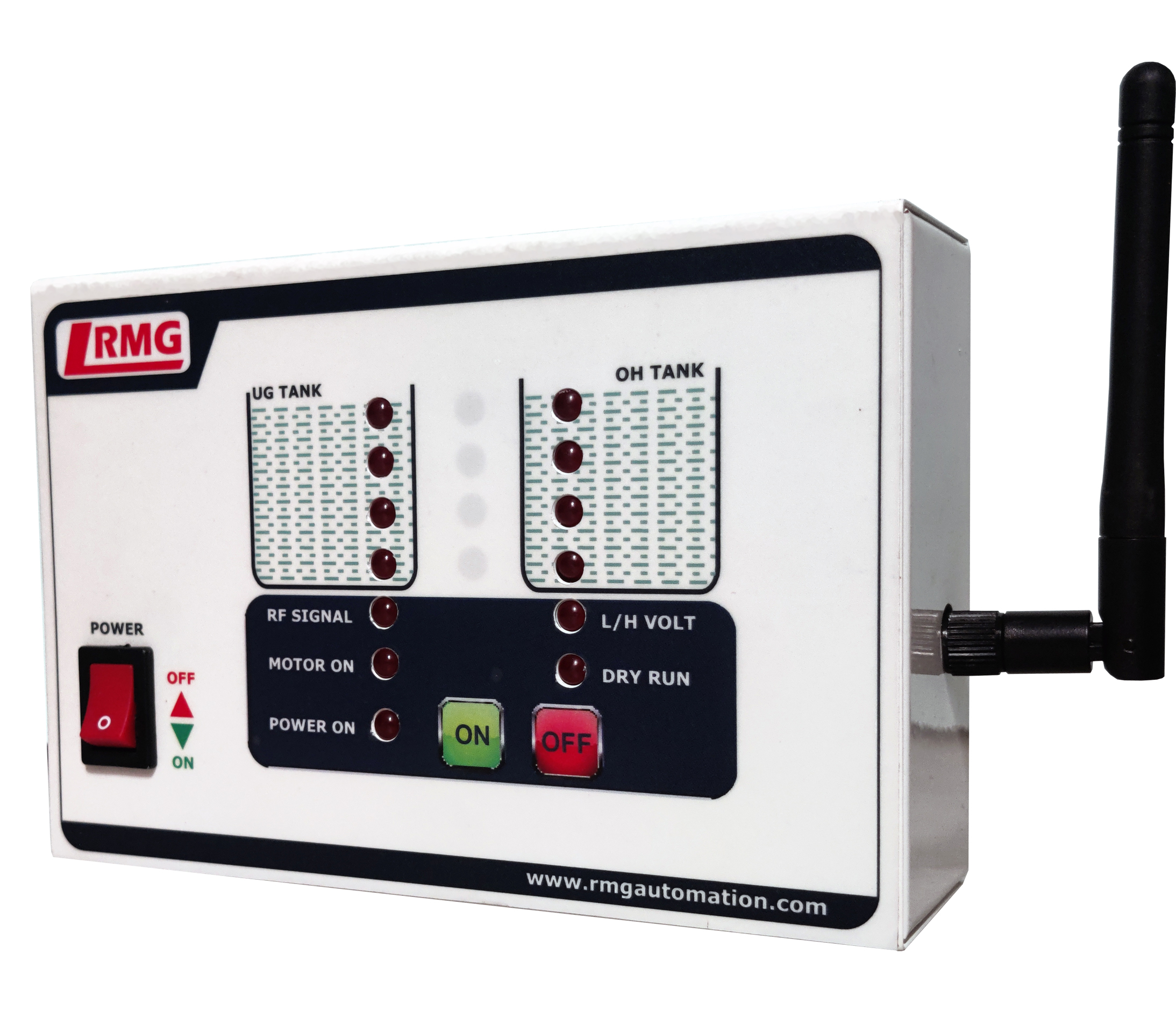 Has high quality and robust metallic body. Has long life.

Attractive front panel with visible LED indications (25%, 50%, 75% and 100%) for tanks and for denoting power on, motor on, L/H Volt, RF signal and Dry Run

.

Fascial switches for motor on and motor off.

Has Fuse protection.

Has Dry Run Protection.
.
Transmitter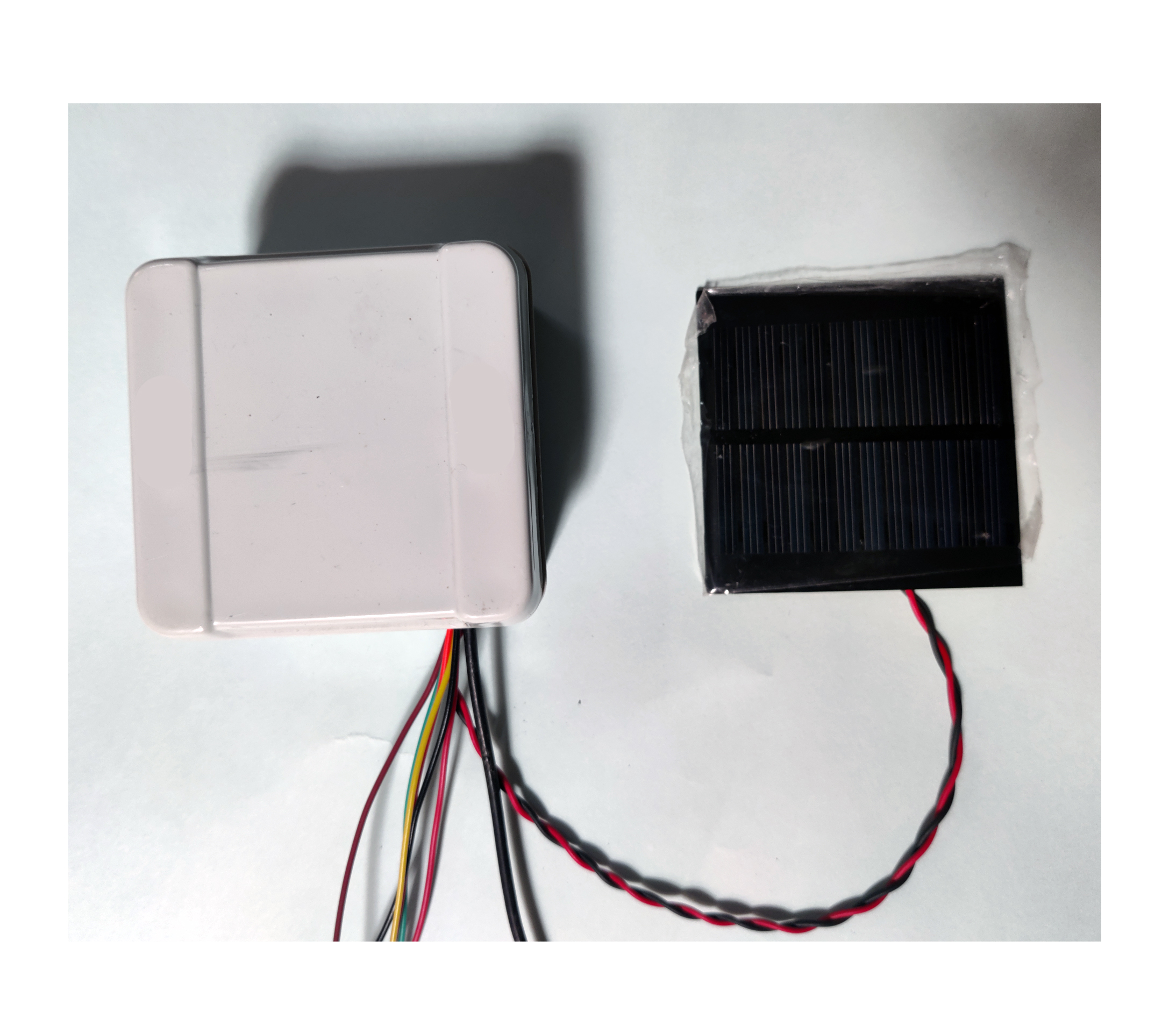 Rain proof IP-65 enclosure. Withstand both extremes of weather conditions

.




Rechargeable Lithium Ion Battery.

Powered by Solar panel.

Has LEDs for showing status of Charging and Charge Full.
Has LED indication for RF signal.
USB port available for charging options.
Working Principle:
The transmitter device is powered by rechargeable battery along with solar panel. The sensors probes should be immersed in the water tank and should be connected with the sensor lines of the transmitter based on the colour coding in it. The receiver or controller unit should be fixed along with the motor pump switch. The receiver requests the transmitter for the update of the water level in the tank. The transmitter sends the signals of the tank level as and when requested by the receiver.Once the water level has reached low level in the tank, receiver takes the information from transmitter and turn on the motor. Again when tank is full, motor is switched off.
Benefits and Features:
It helps who struggle to lay cables for long distance, also where there is lack of possibilities

.

Highly reliable. Seamless Communication

.

Has over voltage and over current protection.

Trouble free installation.

Very Little Maintenance.
No manpower required. DIY product.
Replaceable, Rechargeable high quality Lithium ion battery.
Saves money, power, energy.
Perfect continuous operation.
Cost effective.

Has Dryrun protection

.
Has Low/High Voltage protection.
Area of application:
This product is a boon for buildings such as
Schools/Colleges/Educational institutions

.

Hotels.

Home apartments.

Commercial complexes such as Malls, Theaters.
Factories, Industries, Companies.
Where cooling towers are used.
Residential and commercial swimming pools.
Anywhere water levels need to be controlled.
In huge containers as a liquid level indicator.
Downloads
| | |
| --- | --- |
| Datasheet - AWFAWLC-Tank Only | |
| User Manual - AWFAWLC-Tank Only | |
| Datasheet - AWFAWLC-Tank and Sump | |
| User Manual - AWFAWLC-Tank and Sump | |
| Datasheet - Solar Powered Wireless Transmitter | |
| Datasheet - Solar Powered Wireless Repeater | |
இந்த தயாரிப்பு குறித்த கேள்விகளை உங்கள் தாய் மொழியில் வாட்ஸ் ஆப் மொபைல் எண் 9940594413 க்கு கேட்கலாம்.
You can ask questions about this product in your mother language to What's app mobile number 9940594413.
మీరు ఈ ఉత్పత్తి గురించి మీ మాతృభాషలో వాట్స్ యాప్ మొబైల్ నంబర్ 9940594413 కు ప్రశ్నలు అడగవచ్చు..
വാട്ട്‌സ് ആപ്പ് മൊബൈൽ നമ്പർ 9940594413 എന്ന വിലാസത്തിലേക്ക് നിങ്ങളുടെ മാതൃഭാഷയിൽ ഈ ഉൽപ്പന്നത്തെക്കുറിച്ച് ചോദ്യങ്ങൾ ചോദിക്കാം..
ಈ ಉತ್ಪನ್ನದ ಕುರಿತು ನಿಮ್ಮ ಮಾತೃಭಾಷೆಯಲ್ಲಿ ವಾಟ್ಸ್ ಅಪ್ಲಿಕೇಶನ್ ಮೊಬೈಲ್ ಸಂಖ್ಯೆ 9940594413 ಗೆ ಪ್ರಶ್ನೆಗಳನ್ನು ಕೇಳಬಹುದು..
आप अपनी मातृ भाषा में इस उत्पाद के बारे में सवाल व्हाट्स ऐप मोबाइल नंबर 9940594413 पर पूछ सकते हैं।.
আপনি আপনার মাতৃভাষায় এই পণ্যটি সম্পর্কে কী প্রশ্ন অ্যাপটি মোবাইল নম্বর 9940594413 এ জিজ্ঞাসা করতে পারেন।.
તમે તમારી માતૃભાષામાં આ પ્રોડક્ટ વિશે પ્રશ્નો વ What'sટ્સ એપ મોબાઇલ નંબર 9940594413 પર પૂછી શકો છો.
आपण आपल्या मातृभाषेत या उत्पादनाबद्दल प्रश्न काय व्हॉट्स अॅप मोबाइल नंबर 9940594413 वर विचारू शकता.
ਤੁਸੀਂ ਆਪਣੀ ਮਾਂ-ਬੋਲੀ ਵਿਚ ਇਸ ਉਤਪਾਦ ਦੇ ਬਾਰੇ ਵਿਚ ਵਟਸਐਪ ਮੋਬਾਈਲ ਨੰਬਰ 9940594413 'ਤੇ ਸਵਾਲ ਪੁੱਛ ਸਕਦੇ ਹੋ..
तपाईं आफ्नो मातृभाषामा यो उत्पादनको बारेमा प्रश्नहरू सोध्न सक्नुहुन्छ कुन अनुप्रयोग मोबाइल नम्बर 40 9940०59 44 4413१।।.
آپ اپنی مادری زبان میں اس مصنوع کے بارے میں سوالات کیا ایپ موبائل نمبر 9940594413 پر پوچھ سکتے ہیں۔.
ଏହି ଉତ୍ପାଦ ବିଷୟରେ ତୁମ ମାତୃଭାଷାରେ କ'ଣ ଆପ୍ ମୋବାଇଲ୍ ନମ୍ବର 9940594413 କୁ ପ୍ରଶ୍ନ ପଚାରି ପାରିବ .
توهان پنهنجي مادري ٻولي ۾ هن ائپ بابت موبائل نمبر نمبر 9940594413 بابت سوال پڇي سگهو ٿا.